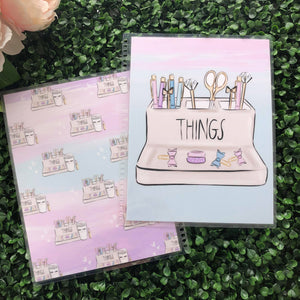 Oscar & Lou
Planner Cover - Planner Things
Regular price
$22.00
$0.00
Tax included.
Love your planner but feel like you need a change? 
No need to buy a new planner to get that new planner feel!
These interchangeable covers are made to fit your Erin Condren Life Planners or Classic Happy Planners. 

Features:
- Interchangeable snap on and off. Covers are hole punched to fit choose planner style.
- Thick 250 micron laminating pouches.
- Sharp corners will be slightly rounded.
- Excellent print quality.

Covers
Erin Condren 
Happy Planner Classic 

**Please choose carefully as once order has been placed no changes or cancelations can be made. These covers are handmade to order.
** Planner and/or accessories are not included.
** Please note colours may vary slightly on each computer monitor.
** Images purchased with commercial lic.